Protecting Children Against Bicycle Accidents In Monterey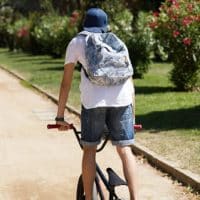 Children love riding bicycles. It provides hours of fun while offering a form of transportation and a way to keep physically fit. However, whether they are riding in your neighborhood, to visit friends, or to get to and from school, it is important to be aware of the risks. Bicycle accidents in Monterey are unfortunately common and often result in potentially devastating personal injuries. Find out how to keep your child safe and ways to protect them if an accident does happen.
Reducing The Risks Of Bicycle Accidents In Monterey
The Centers for Disease Control and Prevention (CDC) warns that bicycle accidents claim the lives of more than 1,000 people each year while leaving hundreds of thousands of others suffering serious personal injuries. Sadly, children are among the most common victims.
The younger the rider, the greater the risks. Parents can help protect their children by taking a few simple precautions:
Make sure the bike your child is riding is suitable to their size and skill;
Provide routine maintenance, such as checking tire pressure and brake systems;
Require your child to wear an approved safety helmet at all times and other protective gear;
Put reflectors on their bike to increase visibility;
Monitor the routes they travel and have them avoid high traffic areas;
Encourage them to use bicycle hand signals near other vehicles;
Make sure they cross streets only at designated intersections;
Remind them never to assume a driver sees them or will stop;
Advise them to use particular caution when crossing driveways or riding through parking lots.
If Your Child Is Injured In A Monterey Bicycle Accident
According to the California Office of Traffic Safety (OTS), more than 100 bicycle accidents in Monterey County happen each year. Of these, close to 20 percent involve children under the age of 15. If your child is injured in a crash, take these steps to protect them:
Try and get a description of the driver and vehicle;
Make note of exactly where and when the accident happened, as surveillance cameras nearby may have caught the incident;
Inform police immediately so that an accident report can be filed;
Seek medical attention for your child right away, regardless of the severity of their injuries.
Broken bones, torn muscles and tendons, and injuries to the head, back, and neck are all common in bicycle accidents. These can impact your child's health for years into the future. Before accepting any type of settlement, speak to our Monterey bicycle accident attorneys first. We can help ensure they get the total amount needed to cover both their current and future expenses and other losses they are likely to suffer.
Reach Out To Our Monterey Bicycle Accident Lawyer Today
If your child is injured in a bicycle accident, reach out to the Allen Law Firm. We provide the professional legal representation needed to protect their rights in a claim. Call or contact our Monterey bicycle accident attorneys online and request a consultation today.
Sources:
ots.ca.gov/media-and-research/crash-rankings/
cdc.gov/transportationsafety/bicycle/index.html