What To Avoid When Filing A Monterey County Personal Injury Claim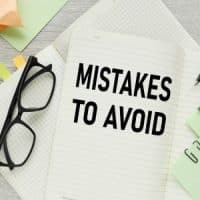 Accidents can happen to anyone, at any time. Serious personal injuries that result can impact your health, your income, and your ability to engage in your favorite hobbies and activities for months or even years to come.
When the reckless actions of others are to blame, they can be held liable for your losses. Our Monterey personal injury lawyer explains common actions to avoid in order to protect your rights in filing a claim.
Actions That Could Jeopardize Your Rights To Compensation For Personal Injuries In Monterey
The California Department of Public Health (CDPH) reports that nearly 30,000 people suffer personal injuries in Monterey County each year. While they generally occur unintentionally, the fact is that reckless and negligent behavior on the part of others is often to blame.
Negligence is a term commonly used in personal injury claims. It means taking actions that put others at risk or failing to take reasonable precautions. Under the California Civil Code, you have the right to hold those at fault accountable for medical expenses, lost wages, and other costs you incur as a result.
To protect your rights to compensation, it is important to avoid the following in the aftermath. These include:
Downplaying the situation: When an accident happens, victims often have the tendency to downplay the circumstances. Instead, be sure and report it to the proper authorities.
Downplaying your injuries: In addition to not downplaying the situation, avoid downplaying your injuries or other damages you suffer. Seek medical care immediately.
Blaming yourself: In your shock over what happened, you may be tempted to blame yourself, at least in part. Unfortunately, statements admitting blame can be used against you at a later date.
Accepting an immediate settlement: The at-fault party or their insurer may admit to liability and offer an immediate settlement. Be aware that this amount is likely less than you deserve and could leave you paying major amounts out-of-pocket at a later date.
How To Protect Your Rights In A Monterey Personal Injury Claim
Personal injuries suffered in even a seemingly minor accident can impact your health and financial security for years to come. To protect your rights to compensation, take these steps:
Jot down any details you remember about the accident;
Get copies of accident reports and your medical records;
Follow your doctor's instructions regarding ongoing treatment and work or activity restrictions;
Keep a journal documenting the adverse impacts you suffer due to your injuries and how they affect other areas of your life;
Contact our Monterey personal injury lawyer before making any statements to insurers or accepting a settlement.
Contact Our Monterey Personal Injury Lawyer Today
Personal injuries in Monterey can leave you facing thousands of dollars in medical expenses, lost wages, and other costs. It is important to be aware you only have one chance to get compensation. To protect your rights in a claim, contact the Allen Law Firm and request a consultation with our Monterey personal injury lawyer before making statements to insurers or accepting any settlements.
Sources:
epicenter.cdph.ca.gov/ReportMenus/CallReportingServicesDataSummaries.ashx?reportID=11&reportDataID=3&DataYear=2015&countyList=27&OutputFormat=1
leginfo.legislature.ca.gov/faces/codes_displaySection.xhtml?sectionNum=1714.&lawCode=CIV