Automotive Product Defects Increase Monterey Car Accident Risks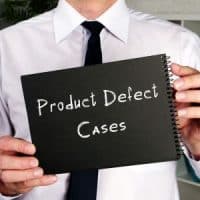 Car accidents in Monterey are unfortunately common and one of the leading causes of personal injuries. They typically happen due to reckless driving behavior on the part of one of the motorists involved. However, in some cases, product manufacturing defects may also play a major role. Our Monterey car accident lawyer explains more about the potential risks and how manufacturer defects can lead to you or your passengers suffering serious harm.
Common Automotive Defects That Can Contribute To Car Accidents In Monterey
The California Office of Traffic Safety (OTS) reports that close to 3000 car accidents in Monterey County happen each year. Many of these are the result of speeding, running red lights, distracted or impaired driving, and other types of driver negligence
However, in some cases, manufacturing automotive defects may have played a significant role in causing the crash. According to the National Highway Traffic Safety Administration (NHTSA), the most common types of product defects that can put drivers at risk include:
Brake Failure: Brakes are one of the most important safety features of any vehicle and must be made without defects. The ability to stop quickly is often the difference between walking away from an accident or suffering serious injuries.
Sudden Unintended Acceleration (SUA) As cars become more technologically advanced, the potential for that technology to malfunction increases. This can result in sudden unintended acceleration, which is a common problem that is known to cause accidents resulting in devastating personal injuries.
Faulty Seatbelts: A seatbelt that unbuckles by itself, fails to clip, or is simply broken is a common manufacturer defect that can often lead to severe and potentially fatal car accident injuries.
Defective Airbags: This is a common defect affecting many vehicles. When airbags do not deploy properly, they can injure drivers and passengers or fail to protect them in the event of a collision.
Addressing Product Defects Reduces Car Accident Risks
Making sure your car is well-maintained and in good working order helps to reduce car accident risks in Monterey. This includes staying up-to-date on any recalls and visiting the dealer or other approved mechanic as needed.
Vehicles with defective parts that need to be repaired or replaced can be found on the NHTSA's recall list. To see if the car you drive is impacted, simply locate the 17-character Vehicle Identification Number on the lower left of your car's windshield. Enter it on the website or through the NHTSA SaferCar App to find out if your vehicle is currently affected by a safety recall or has been in the past 15 years.
Contact Our Monterey Car Accident Lawyer Today
Car accidents are complex events and there are often multiple underlying causes.  At the Allen Law Firm, we can conduct a thorough investigation to determine what happened and who is responsible, so you can get the compensation you need to recover. To request a consultation with our Monterey car accident lawyer, call or contact our office online today.
Sources:
ots.ca.gov/media-and-research/crash-rankings-results/?wpv_view_count=1327&wpv-wpcf-year=2019&wpv-wpcf-city_county=Monterey+County&wpv_filter_submit=Submit
crashstats.nhtsa.dot.gov/Api/Pu
nhtsa.gov/recalls