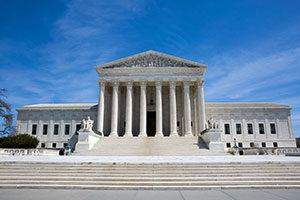 There are many ways in which a government entity or government employee may cause serious injury, death or property damage by neglect.
For example:
Your car might get rear-ended by a city bus.
You may trip and fall at the DMV.
A fire set by federal park rangers may burn out of control and damage or destroy your home.
Road construction may cause you to crash your car.
A dangerous condition at a city park may cause your child to be seriously injured.
The stop lights at an intersection on a city street may be improperly designed and result in a serious car accident.
Just because the government is designed to help us doesn't mean that they can't hurt us. Suing the government can be the right option for you. Here's how to sue the government for personal injury.
Build Your Case On Time
When suing the government, you need to file a notice of claim before filing a lawsuit in court.
The notice of claim may vary depending on whether you are suing the federal or state government and may vary from one agency to the next. It is typically one to three pages long.
In the notice of claim, you must state that you have a claim against certain government employees or government, explain the basic facts surrounding your claim and, in some cases, must state the amount of money you are seeking.
The purpose of a notice of claim is to give the government a period of time to investigate your claims. The government may wish to settle your case outside of court. In most cases, however, the government will deny your claim or simply allow the claim to "expire" by failing to settle within a specified period of time, and you will need to bring a lawsuit after the notice of claim period expires.
There are strict time limitations that apply to claims against government agencies. The time limitations are often significantly shorter than the time limits on filing claims against private individuals or corporations. Failure to abide by these time limits may result in dismissal of your claim against the government entity.
INJURED IN AN ACCIDENT?
Contact one of our experienced personal injury attorneys for a free case consultation.
Check the Federal Tort Claims Act (FTCA)
You may have a solid case, but that does not necessarily enable you to sue the federal government. "Sovereign immunity" protects the government against lawsuits.
This principle dictates that citizens cannot sue the federal government unless the government allows it. Thankfully, the Federal Tort Claims Act (FTCA) allows certain lawsuits to pass regardless of the government's permission, so suing the government is possible.
Review Your Case and the FTCA With A Lawyer
To ensure that your claim is possible, review your claim and the FTCA with a personal injury lawyer.
At our firm, we assist individuals and families with personal injury, wrongful death, and property damage claims against federal, state, county and city governments.
We represent clients with claims stemming from:
Car accidents caused by poorly designed roads, bad intersections, etc.
Accidents and injuries occurring at state, county, or city parks
Accidents occurring in school zones
Damage to property caused by government activities
Motor vehicle accidents involving government employees and government-owned vehicles
Injuries occurring on government-owned property or in government buildings or facilities
Accidents caused by road construction elements, including improper signage, inadequate warnings of construction, unsafe operation of construction machinery, and more
Injuries caused by exposure to toxic substances on government-owned property or released from government-owned facilities
Claims against the federal, state or local government adhere to special laws permitting citizens to sue the government for damages caused by the negligent party or otherwise wrongful conduct of government agencies or employees.
Whether your injuries are the result of a car accident, unsafe conditions at a park or inadequate safety measures in a road construction zone, our skilled Monterey personal injury lawyers can help you pursue fair compensation for pain and suffering, medical bills, lost wages, and more.
Do Not Delay! Contact Our Firm Today to Sue a Government Agency
The government will have their own lawyers on their side – make sure you have an experienced lawyer on yours if you plan on suing a government agency.
It is important that you contact our government injury attorney or government property damage attorney as soon as possible in order to protect your legal rights. Your initial consultation is free of charge, and you pay no legal fees unless we recover for you. We have flexible appointments, including evening, weekend, home, and hospital visits.
Ready to make the call? Schedule a consultation with the Allen Law Firm by message or call us at (831) 901-3901.