Offices in Monterey & Santa Cruz
One of the most common causes of injury is a slip, trip, or fall accident. With the potential to happen anywhere and affect nearly anyone, a slip and fall can take you by surprise and could leave you with serious injuries.
If you have suffered a slip and fall injury in Monterey or Santa Cruz, working with an attorney can help. Our legal team at the Allen Law Firm have slip and fall attorneys to thoroughly investigate your case and pursue a fair damages settlement.
The Dangers of Slip and Falls

Slip and fall accidents have the potential to be deadly and are the cause of fatal injuries–especially amongst older adults–every year. 800,000 people are hospitalized for slip and falls each year, and 1 in 5 of those falls result in serious injuries.
Common injuries include:
Head and neck injuries;

Traumatic brain injuries;

Bone fracture injuries;

Internal injuries;

Soft tissue injuries, including muscle and ligament sprains and strains;

Lacerations and bruises; and

Back and spine injuries, including spinal cord injuries in severe cases.
What Causes Slip and Fall Accidents?
Most slip and fall accidents are preventable and occur as a result of a dangerous condition on a property that should have been remedied. For example, some of the most common causes of slip and falls are:
Slippery and wet flooring;

Poor lighting, whether indoors or out;

Uneven or damaged pavement/sidewalk;

Poorly-maintained walking areas;

Broken steps and stairs;

Lack of handrails or loose handrails; and

Debris or other objects in the way that create a hazard.
In some cases, a fall hazard may exist because of a construction defect or oversight, such as a builder's failure to perform construction in accordance with building code.
INJURED FROM A SLIP AND FALL?
Discuss your case with us at no cost during a free consultation.
Who's Liable for Damages after a Slip and Fall?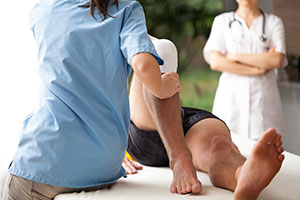 If you are injured in a slip and fall accident on the property of another party, understanding who is liable for your damages–which means who is legally responsible to pay for harm you have suffered–is important.
Liability is based on the theory of negligence – the failure to operate with the proper duty of care. Property owners owe a duty of care to all those who enter their properties lawfully to ensure that a property is reasonably free from hazards, and to remedy any known hazards within a reasonable amount of time.
If you can prove that a property owner breached the duty of care owed to you by failing to repair a hazard on their property, and that this hazard was the cause of your slip and fall and subsequent injuries, you can hold the property owner liable for your damages.
Working with a Monterey & Santa Cruz Slip and Fall Attorney
Understanding your rights after a slip and fall accident can be difficult; proving liability is even more complicated.
For a free consultation about your options, and legal representation and skill that you can count on, call our slip and fall law firm today. Our slip and fall attorneys care about you and will work hard on your behalf.
Contact us today to schedule your free consultation.