Common Types Of Personal Injuries In Rear-End Car Accidents In Monterey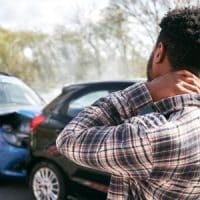 Car accidents in Monterey can happen in a variety of ways, all of which are capable of causing serious personal injuries. Rear-end collisions are among the most common. They are also among the most potentially devastating. Even if it does not involve a major collision, personal injuries you suffer can be debilitating, impacting your health and financial security for years into the future. Our Monterey car accident lawyer explains more about these crashes, the serious harm they cause, and how to protect your rights to compensation.
Rear-End Car Accidents In Monterey: Know The Risks
Motor vehicle crashes are one of the most common causes of personal injuries and it is important for all drivers to be aware of the risks. The California Office of Traffic Safety (OTS) reports that an average of over 3,000 car accidents in Monterey County happen each year, ranking us among the top third compared to similarly sized counties across the state. This means that the odds of being involved in some type of collision are higher here than in many other places.
Rear-end car accidents are one of the most common types of crashes and can happen in a variety of situations. They are more likely to occur in heavy traffic, at intersections, and in local parking lots and are often due to reckless and negligent behavior on the part of other motorists involved. Among the leading causes include:
Distracted driving, such as using cell phones and texting;
Driving under the influence of alcohol or drugs;
Speeding and going too fast for conditions;
Tailgating and other aggressive driving behaviors.
Common Rear-End Car Accident Injuries 
When a driver hits you from behind in a rear-end collision, it can cause serious personal injuries involving the head, back, neck, or other body parts. The National Highway Traffic Administration (NHTSA) warns that the way in which these crashes and the speed at which the at-fault driver is traveling at the time are major factors in the degree of harm that is likely to occur. Among the most common types of rear-end car accident injuries suffered by clients in cases we handle:
Back sprains and strains;
Fractured vertebrae;
Herniated discs;
Internal injuries;
Fractures of legs, arms, wrists, or hips;
Whiplash;
Traumatic brain injuries.
Request A Consultation With Our Monterey Car Accident Lawyers
When any type of rear-end car accident in Monterey happens, report it to the police immediately. Exchange contact information with the other driver involved, gather information from witnesses and other evidence at the scene, and seek medical care as soon as possible. Before making any statements to insurers or accepting any settlements, reach out to our Monterey car accident lawyers first.
We help you hold the at-fault driver accountable and get the compensation you are entitled to, whether it involves negotiating an insurance settlement or taking your case to court. To discuss your options, call or contact the Allen Law Firm online and request a consultation today.
Sources:
ots.ca.gov/media-and-research/crash-rankings-results/?wpv_view_count=1327&wpv-wpcf-year=2018&wpv-wpcf-city_county=Monterey+County&wpv_filter_submit=Submit
nhtsa.gov/sites/nhtsa.gov/files/analyses20of20rear-end20crashes20and20near-crashes20dot20hs2081020846.pdf