Reducing The Risks Of Pedestrian Accidents In Monterey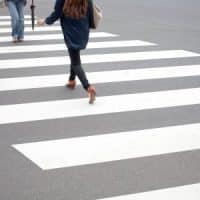 As the weather gets warmer and the days get longer, you are likely to see more people out and about, walking around on the streets of Monterey. Unfortunately, while there are many different types of paths and places you can reach on foot, increasingly heavy traffic conditions make pedestrian accidents more likely to happen. Our Monterey pedestrian accident lawyer wants you to be aware of the risks and how to protect yourself.
Monterey Ranks High In Terms Of Pedestrian Accident Risks
According to statistics from the California Office of Traffic Safety (OTS), an average of nearly 20 pedestrian accidents in the city of Monterey happen each year. This averages out to two or three per month, which ranks us as one of the top ten most dangerous places for these crashes, compared to similarly sized cities throughout the state.
Sadly, while Monterey offers many scenic places to walk and an abundant amount of shops and restaurants easily reached by foot, the amount of traffic puts pedestrians at risk. When pedestrian accidents in Monterey do happen, personal injuries suffered by victims have the potential to be severe. In many cases, reckless and negligent behavior on the part of motorists is responsible. This includes:
Speeding and going too fast for conditions;
Running red lights and stop signs;
Failing to yield at crosswalks;
Weaving in and out of designated pedestrian lanes.
Protecting Yourself Against Pedestrian Accidents In Monterey
The City of Monterey takes pedestrian safety seriously and has made numerous improvements over the years to help protect people out walking in our area. Unfortunately, steadily increasing traffic conditions have only increased the risk. To protect yourself, the city recommends taking some simple precautions, such as staying on sidewalks, crossing only at designated intersections, never assuming a driver sees you or will stop, and not walking while under the influence.
Unfortunately, despite taking these precautions, pedestrian accidents in Monterey can still happen. If you or someone you love is injured, take these steps to protect your rights in a claim:
Report the accident immediately to the police;
Get the drivers contact information, as well as that of any witnesses at the scene;
Seek medical care immediately, regardless of the severity of your injuries;
Contact our Monterey pedestrian accident lawyer before making statements to insurers or accepting a settlement.
We negotiate with insurers on your behalf to obtain the maximum amount in a settlement. If insurance is unavailable or fails to cover your costs, we can take your case to court. In the event a hit and run pedestrian accident in Monterey happens, you can count on us to take the actions needed to identify the driver so that they can be held accountable.
Contact Our Monterey Pedestrian Accident Lawyer
Pedestrian accidents in Monterey are unfortunately common. At the Allen Law Firm, we hold fault drivers accountable and help victims and their families get the compensation they need to recover. Call or contact our Monterey car accident lawyer online to request a consultation today.
Sources:
ots.ca.gov/media-and-research/crash-rankings/
files.monterey.org/Document%20Center/Public%20Works/Engineering/Traffic%20Engineering/Safety%20Tips%20for%20Pedestrians/Safety-Tips-for-Pedestrians.pdf