How To Prevent Personal Injuries On Your Property Over The Holidays (And Reduce Your Liability)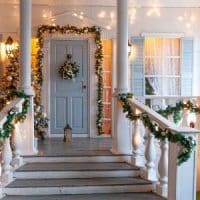 The holidays are fast approaching, which means many residents and businesses are busy making preparations. Amidst all the planning and decorating, keep an eye on safety. With an increase in visitors, there is an increased risk of slip fall injury or other types of accidents. When these occur due to dangerous conditions on your property, you can be held liable for medical expenses, lost wages, and other costs victims incur as a result. Find out some simple steps you can take to prevent personal injuries on your property from happening.
Common Causes of Personal Injuries In Monterey Premises Liability Cases 
Premises liability refers to a property owner's duty of care in maintaining their property and warning visitors of potential dangers. One of the most common causes of personal injuries in these cases is slips and falls.
Slip and fall injury accounts for more than eight million hospital emergency room visits each year. According to the National Floor Safety Institute (NFSI), the most common causes include:
Wet, slippery floors due to rain, condensation, or spills;
Flooring defects, such as uneven tiles or torn carpeting;
Lack of proper lighting in indoor and outdoor areas;
Cluttered aisles and walkways;
Failure to install secure guard rails on stairs or at heights;
Not providing routine landscaping.
When slips and falls happen due to the above or other reasons, the property owner can be held liable. Getting struck by or against objects is another common cause of personal injuries and can happen due to improperly secured shelving, loose lighting fixtures, and low-hanging tree branches or holiday decorations.
Reduce Your Liability Over The Holidays 
Business owners eagerly look forward to the holidays while individual residents enjoy welcoming people into their homes. However, it is important to be aware that, under California Civil Code Section 1714, you can be held responsible for any personal injuries that occur on your property. To reduce your liability risks, follow these tips:
Provide routine maintenance to the property and make repairs as needed;
Use non-skid mats at entrances and on stairs;
Trim tree branches and other outdoor areas;
For outdoor lighting displays, make sure power cords do not pose trip hazards;
Inside, make sure floors are cleared and there is not an excessive amount of clutter;
Provide a warning if your home or property is in the midst of any type of construction, repairs, or renovations.
Be aware that pets could also pose risks to holiday visitors, including delivery people. Post signs and make sure they are properly restrained at all times.
When Accidents Happen, Our Monterey Personal Injury Lawyers Are Here To Help
Personal injuries can happen in public places or when visiting people in their homes. Unfortunately, they are particularly common during the holiday season. At The Allen Law Firm, we help victims get the compensation they need to recover. Call or contact our office online and request a consultation with our Monterey slip and fall lawyers today.
Sources:
nfsi.org/nfsi-research/quick-facts/
leginfo.legislature.ca.gov/faces/codes_displaySection.xhtml?sectionNum=1714.&lawCode=CIV