Fatal Pedestrian Accidents In Monterey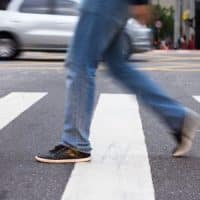 Pedestrian accidents in Monterey are among the most devastating types of crashes. With little to protect them in these collisions, injuries suffered by pedestrians are often severe. In too many cases, they can prove fatal. Our Monterey pedestrian accident attorneys explain the risks and how surviving family members can hold at-fault drivers accountable.
Monterey Pedestrian Accident Risks
According to the California Office Of Traffic Safety (OTS), pedestrian accidents in Monterey County impact an average of more than 150 people each year. While children and older adults are among those most at-risk, they can happen at any age.
Pedestrians have little to protect them in collisions involving motor vehicles. As a result, they tend to suffer major trauma. Common types of pedestrian accident injuries in Monterey that can prove fatal include:
Deep cuts and lacerations, resulting in massive blood loss and dangerous infections;
Crushing injuries, causing internal bleeding and damage to body organs;
Head injuries, one of the leading causes of pedestrian accident deaths;
Spinal cord injuries, which can cause paralysis that impacts the heart, lungs, and other vital body organs or systems.
In some cases, personal injuries may not be immediately life-threatening. However, ongoing complications and the overall negative impacts on the victim's health may increase the likelihood of otherwise early and untimely death.
Holding At-Fault Drivers Accountable For Fatal Pedestrian Accident Injuries In Monterey 
The Transportation Agency for Monterey County works on infrastructure and other issues that help to increase pedestrian safety. Pedestrians are urged to take precautions, such as walking on sidewalks, using crosswalks, and increasing their visibility, particularly when out at night. However, in most cases, fatal pedestrian accidents in Monterey are often caused by reckless behavior on the part of drivers. This includes speeding, running red lights, and driving under the influence.
When negligence on the part of a motorist results in personal injuries for pedestrians, they have the right to hold the at-fault driver accountable. In cases involving fatal pedestrian accidents, surviving spouses, parents, children, or other relatives and representatives of their estate may be entitled to file a wrongful death lawsuit.
Filing a wrongful death lawsuit for fatal pedestrian accident injuries in Monterey County helps provide a sense of justice for the victim and the compensation their devastated families need in the aftermath. This includes:
Payment for outstanding medical expenses, which often total hundreds of thousands of dollars;
Coverage of all funeral costs and burial expenses;
Payment for lost wages and future income the victim would have otherwise earned;
Additional amounts for pain and suffering, as well as loss of companionship and lost enjoyment in life. 
Reach Out To Our Monterey Pedestrian Accident Attorneys 
When pedestrian accidents happen and result in life-threatening or fatal injuries, the Allen Law Firm helps victims and their families hold at-fault drivers accountable. To get a sense of justice and the compensation you may be entitled to in a claim, reach out and request a consultation with our Monterey pedestrian accident attorneys today.
Sources:
ots.ca.gov/media-and-research/crash-rankings-results/?wpv_view_count=1327&wpv-wpcf-year=2018&wpv-wpcf-city_county=Monterey+County&wpv_filter_submit=Submit
tamcmonterey.org/bike-pedestrian