Personal Injury Attorneys Enforce Your Rights After a Pacific Grove, CA Accident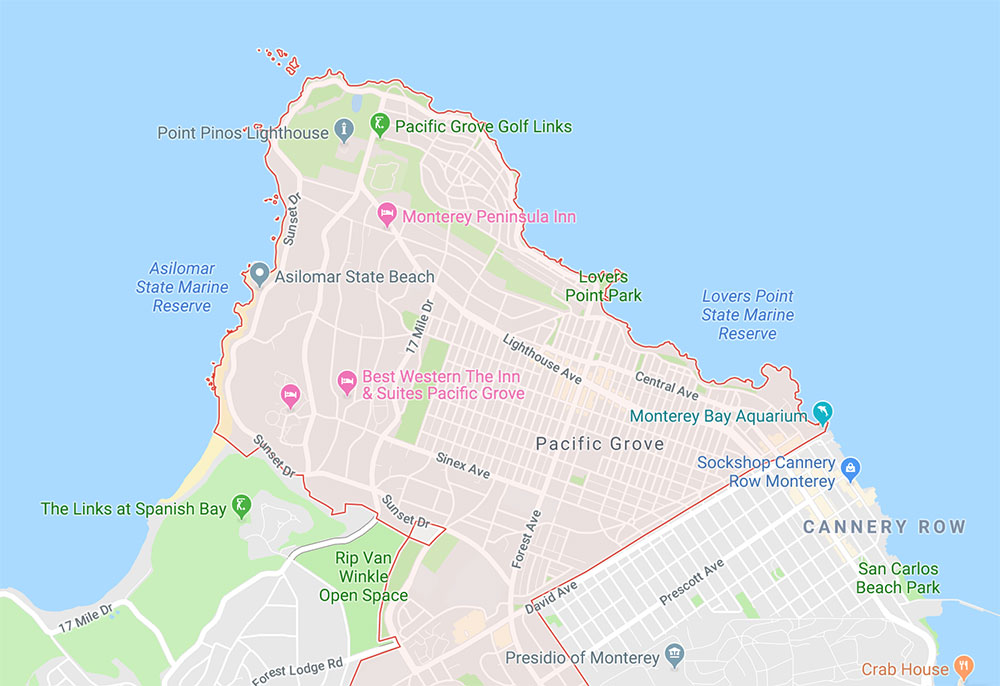 Though you may watch out for your own safety when driving through Pacific Grove, dining along Lighthouse Avenue, or enjoying the best views in Monterey County, not everyone else does. If someone else's carelessness leads to an accident and you suffer injuries, there can be devastating consequences on your life.
At the Allen Law Firm, our Pacific Grove personal injury attorneys are here to help you pick up the pieces when you are hurt through negligent acts. We can help you recover compensation for your losses, so please contact our office to schedule a free consultation with a Pacific Grove personal injury lawyer today.
You may also find it useful to review some general information on how these claims work in California.
Common Injury-Causing Accidents
In general, accidents are usually the result of someone's negligence and failure to comply with the duty of care that a reasonable person would exercise under the circumstances. A Pacific Grove personal injury attorney at the Allen Law Firm can explain in more detail, but some specific examples of negligence include:
Car Crashes: When other motorists speed, text while driving, improperly change lanes, violate California traffic laws, or otherwise drive carelessly, they increase the risk of a deadly accident.
Truck Accidents: Crashes involving semis are extremely deadly considering the difference in size between a truck and a passenger vehicle. Truck accidents are more likely to result in fatalities or life-threatening injuries for victims.
Motorcycle Collisions: Vehicle size is also a key factor in motorcycle accidents, but riders are also at risk of serious injury because they do not have metal protective barrier that occupants of a car enjoy.
Regardless of the type of motor vehicle crash or form of negligence, you are entitled to compensation for your injuries as a victim. With the help of a Pacific Grove car accident lawyer at the Allen Law Firm, you can file a claim with the responsible driver's insurance company.
If we cannot get the compensation you deserve for your losses, we will take the battle to court to protect your rights.
He carefully listened to my case, and sped the process of negotiation with the other party. I was able to settle right before the statute of limitations with a very happy result. I would recommend him to any person who needs a personal injury attorney. He is an attorney with a good heart.
Jessie K.
Other Forms of Negligence That Cause Injuries
There are additional ways that you can be hurt because of someone else's negligence. Our Pacific Grove personal injury attorneys can assist you with:
Slip and Fall Incidents: Property owners have a duty to maintain safe premises for guests and visitors, and they can be liable if a victim is hurt due to a hazardous condition.
Pedestrian and Bicycle Accidents: Though you may not be in a motor vehicle, people walking or riding a bike are at risk of being in a crash due to close proximity to the road. The theory of liability is very similar to auto crashes, as motorists must exercise due care with respect to everyone around them.
Our Practice Areas
At the Allen Law Firm, we see clients for the following areas of law:
We offer free consultations to all potential clients. Contact us today about your case, and we can get started right away.
A Pacific Grove Personal Injury Attorney Will Help You Recover for Your Losses
When you suffer injuries in a situation involving negligence, you may be entitled to obtain monetary damages for the losses you endure.
There are two types of damages available in a claim based upon negligence:
Economic damages, which include costs of medical treatment, lost wages, and certain out-of-pocket expenses you incur from your injuries; and,
Non-economic damages that are more subjective in nature, such as pain and suffering, emotional anguish, diminished quality of life, and others.
Call Now to Set Up a Free Consultation with a Pacific Grove Personal Injury Lawyer
Your life can be turned around if you are injured in an accident that was not your fault, so it is critical to retain the services of an experienced legal advocate who can help you get the compensation you deserve under California law.
For more information on your rights, please contact the Allen Law Firm to set up a no-cost case assessment with a Pacific Grove car accident attorney or personal injury lawyer.
Source: California Office of Traffic Safety.